Frequently Asked Questions
Where do you work?
I work out of a comfortable, private office in the Ravenna neighborhood of Seattle, about one mile north of the University of Washington. The office has a quiet, peaceful atmosphere, very helpful for concentrating on math! There is a comfortable waiting room, plenty of free parking, and several nearby cafes. It's easily reached from I-5, and several bus routes run nearby. Please see contact info for the address and directions.
What are your hours?
I work Mondays through Thursdays, afternoons and evenings; and Sundays during the day. In general, my hours are:

Monday through Thursday: 1:30 pm to 8:30 pm

Sundays: 10 am to 6 pm
Hours may vary; please contact me for current openings and availability.

How long do sessions last?
A standard session is one hour (this is a full 60 minutes). If needed, we can schedule longer sessions, in 15-minute increments, up to two hours.

How much does it cost?
Please contact me for prices.

How often should I get tutoring?
We can meet either regularly, or on an as-needed basis, as suits your needs. If you have fallen behind in a course, and want some intensive work to catch up, we could meet a couple of times a week for one or more hours. Once you've caught up, we could cut back to weekly, hour-long sessions, or just meet when you need to.

How and when do I pay?
You can pay when you come for your session, either at the beginning or end. Cash and checks are both fine; I don't take credit cards. You are also welcome to pay for several sessions in advance.

What should I bring to my tutoring session?
Please bring a pencil, eraser, some paper to work on, and a calculator if you use one. If you are coming for help with a class, please bring all of your class materials: textbook, class notes, homework, syllabus or assignment sheet, and any tests and quizzes you have.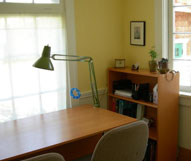 "I had not taken a math class in over 20 years. Her expertise as a tutor was invaluable to me."